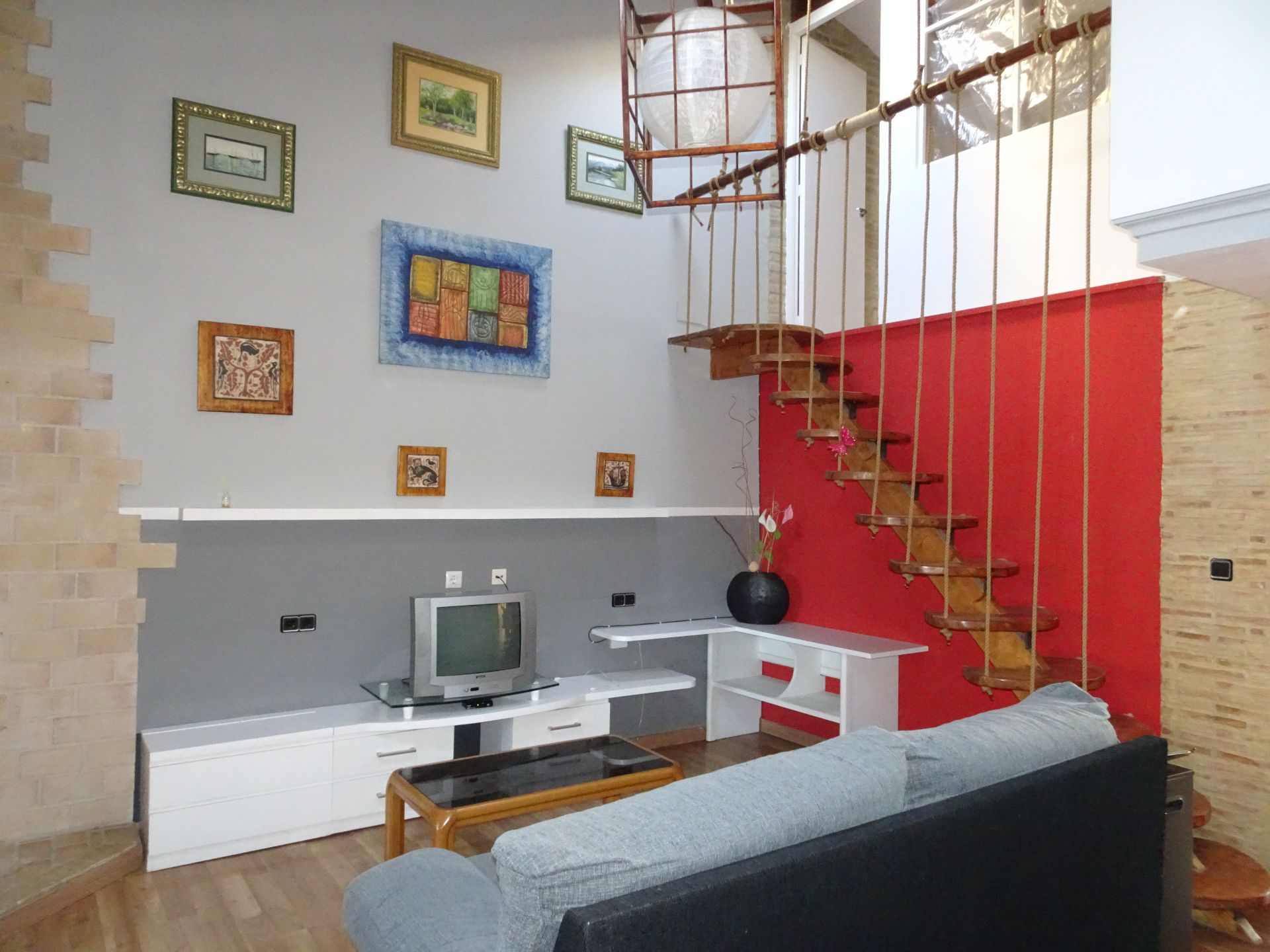 Duplex in Alfara del Patriarca, for rent
Reference number: AHS29
Constructed area 112 m²
Bedrooms 3
Bathrooms 1
OPPORTUNITY FLAT 5 MIN FROM CEU (ALFARA DEL PATRIARCA)
This 112 m2 apartment has a terrace and attic. Ready to move in.

Built in an authentic Valencian house, with beams, it has plenty of light, 1 renovated and spacious bathroom, in which you can make 2 bathrooms, if you would like, and even climb a bathroom in the attic if your intention is to lease it to students to have their room and private bathroom. It can be heated with wood if you prefer to recover the chimney, the pre-installation of the air conditioner is already installed.
A dining room, a terrace that has a corner paellero and a storage room or pantry that has a double sink in which a covered paellero could be made.
The terrace could be covered with a glass roof or sliding roof and thus continue enjoying that space in winter, although our climate is mild in the colder months too.
Ideal if you have a pet or put artificial grass if you have children.

The floors of Alfara del Patriarca and Moncada are being very much in demand, in the same street there are a parcel for 200.000€, you can check, the phone number is on there, which makes this house a sea of ​​possibilities for both living and leasing it to students for only 130.000€

Ready to move in.

- 6 minutes from CEU
- Refurbished
- 1 bathroom
- 2 bedrooms
- Large lounge
- Metro 6 minutes
- Air conditioning preinstallation
- Climalit windows
- Attic with multiple possibilities, 2 holes prepared for windows
- Large terrace
- Barbecue / paellero
- Storage room / Pantry with double sink (possibility of making paellero)
- 135m beds in two rooms
- 110m bed in the medium room

Info to +34 643996362 English speaker
Details
Type: Duplex
For sale/for rent: For rent
Province: Valencia
Town: Alfara del Patriarca
Bedrooms: 3
Bathrooms: 1
Constructed area: 112 m²
Type of property: Re-sale
Energy certification (consumo):
Extras
Kitchen: Independent - Equipped
Balcony: Open terrace - 11 m²
Renovated: Yes
Sun terrace: Yes
Fitted wardrobes: Yes
Double glazing: Yes
Flat per storey: Yes
Shutters: Yes
Pets allowed: Yes
OPPORTUNITY FLAT 5 MIN FROM CEU (ALFARA DEL PATRIARCA)
This 112 m2 apartment has a terrace and attic. Ready to move in.

Built in an authentic Valencian house, with beams, it has plenty of light, 1 renovated and spacious bathroom, in which you can make 2 bathrooms, if you would like, and even climb a bathroom in the attic if your intention is to lease it to students to have their room and private bathroom. It can be heated with wood if you prefer to recover the chimney, the pre-installation of the air conditioner is already installed.
A dining room, a terrace that has a corner paellero and a storage room or pantry that has a double sink in which a covered paellero could be made.
The terrace could be covered with a glass roof or sliding roof and thus continue enjoying that space in winter, although our climate is mild in the colder months too.
Ideal if you have a pet or put artificial grass if you have children.

The floors of Alfara del Patriarca and Moncada are being very much in demand, in the same street there are a parcel for 200.000€, you can check, the phone number is on there, which makes this house a sea of ​​possibilities for both living and leasing it to students for only 130.000€

Ready to move in.

- 6 minutes from CEU
- Refurbished
- 1 bathroom
- 2 bedrooms
- Large lounge
- Metro 6 minutes
- Air conditioning preinstallation
- Climalit windows
- Attic with multiple possibilities, 2 holes prepared for windows
- Large terrace
- Barbecue / paellero
- Storage room / Pantry with double sink (possibility of making paellero)
- 135m beds in two rooms
- 110m bed in the medium room

Info to +34 643996362 English speaker
Info Request
For more information about this property, complete the details below.
You can also call:
643996362
more